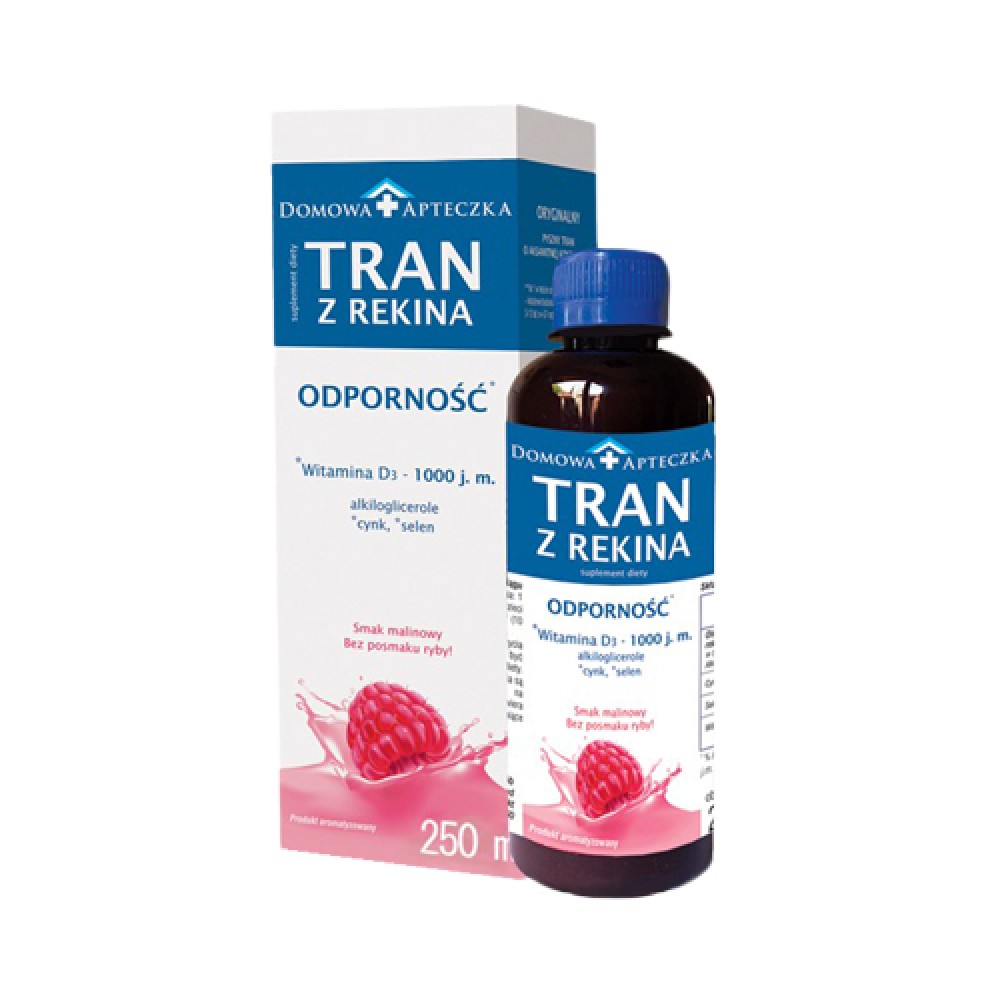 Domowa Apteczka Greenland Shark-liver Oil Raspberry Flavour 250 ml
Delicious fish oil with a velvety texture without the aftertaste of fish oil!
Rich composition to support natural immunity
For ages 3 and above
No added sugars. Contains a sweetener - steviol glycosides.
Steviol glycosides, obtained from the leaves of the Stevia rebaudiana plant, are a natural sweetener, calorie-free, with a low glycemic index, safe for diabetics.
Gluten-free product.
The certified fish oil contained in the product is produced in Iceland with respect for the environment.
It is tested for the presence of heavy metals, dioxins and other pollutants.

Application:
supporting the body's natural immunity (vitamin D, zinc, selenium).
Recommended daily consumption: children over 3 years of age and adults: 2 teaspoons a day (10 ml). Do not exceed the recommended daily dose. Dietary supplements cannot be used as a substitute (replacement) for a varied diet. A balanced diet and a healthy lifestyle are important. Not recommended for: people who are allergic to any ingredient of the preparation. Pregnant and breastfeeding women: - consult your doctor.
Excessive consumption may have a laxative effect.
Action:
Alkylglycerols present in the milk of nursing mothers are also contained in shark liver oil. They activate the body's natural defenses. The other ingredients included in the "Shark oil" dietary supplement, such as D, zinc and selenium, help in the proper functioning of the immune system. Additionally, they have a beneficial effect on healthy bones and teeth (D), skin and hair (zinc) and nails (selenium).

Facts:
A shark is a fish resistant to all diseases, long-lived, very quickly regenerating its strength. Shark liver oil, known to folk medicine for centuries, especially in Scandinavian countries, is also appreciated in the 21st century for its special properties. The secret is in the substances found in the Greenland shark's liver. These include alkylglycerols, squalene. Did you know that alkylglycerols in shark liver oil are ether lipids with high biochemical activity? They are present in small amounts in human milk and in the human hematopoietic system.
Shark oil, depending on the species, contains a minimum of 20% alkylglycerols. They are easily absorbed from the digestive tract.

Ingredients:
EmulOil [bulking agent (maltitols), shark liver oil, water, aromas including natural (raspberry) flavor, thickeners (sodium starch octenyl succinate, xanthan gum), emulsifier (mono- and diglycerides of fatty acids)], water, antioxidant (ascorbic acid), acidity regulator (citric acid), preservative * (potassium sorbate), antioxidant (alpha-tocopherol), zinc oxide, antioxidant (ascorbyl palmitate), sweetener (steviol glycosides), color (cochineal), cholecalciferol, sodium selenate (IV).
Available:

1

Model:

L10301

Weight:

0.34kg
Domowa apteczka