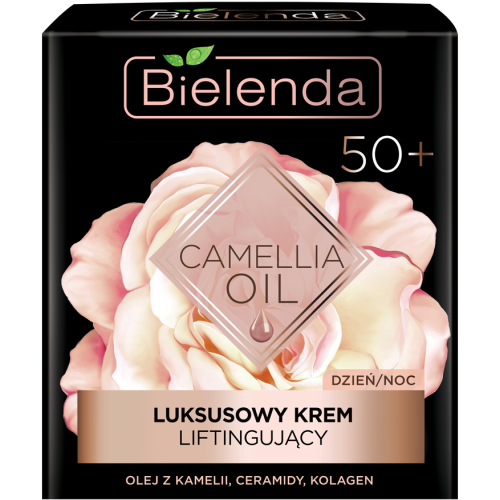 CAMELLIA OIL Luxurious lifting cream 50+ day/night, 50 ml
Intended for mature, sensitive skin, with visible wrinkles.
Luxurious cream with a rich consistency provides skin care modeled on the best Korean beauty rituals. The cream lifts, tightens and strengthens the skin, making facial features visibly younger. Intensively moisturizes, supports the regeneration and nourishment of the epidermis, and retains moisture in the skin. It smoothes wrinkles and delays the formation of new ones.
The cream contains:
CAMELLIA OIL which deeply nourishes, moisturizes and firms the skin. It contains vitamins A, B, C and E, revitalizes and strengthens the skin, retains moisture in the epidermis.
CERAMIDES which protect the skin against water loss and against the harmful influence of the external environment. They firm the epidermis, smoothing wrinkles.
COLLAGEN which improves the structure and elasticity of the skin, preventing it from slackening. It repairs, revitalizes, lifts, restores skin's firmness, smoothness and proper tension.
APPLICATION
Every day in the morning and in the evening, massage the cream into the cleansed skin of face, neck, and cleavage. It is a perfect make-up base.
Available:

11

Model:

L11250

Weight:

0.21kg
Bielenda