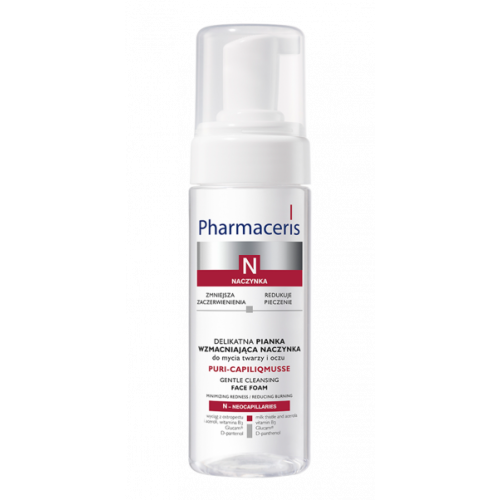 PHARMACERIS N Gentle capillary strengthening cleansing mousse for face and eyes PURI-CAPILIQMUSSE, 150ml

Indications
Gentle mousse for daily cleansing of the face and eye area, recommended for the skin with dilated or broken capillaries, redness and progressive erythema.
The product is appropriate for skin of all ages.
It substitutes traditional soap.


Action
This mousse effectively cleanses the skin, removing any impurities and make-up. A complex of active ingredients (including vitamin B3 and milk thistle and acerola extracts) strengthens blood vessels to reduce skin redness and burning.
Natural betaine and Glucam® intensely moisturize the skin and maintain its hydro-balance for a long time. D-panthenol and allantoin help soothe irritations.
The product makes the skin less prone to hypersensitivity reactions to environmental aggressors. It is very well tolerated and does not leave the skin feeling tight. It is soap-free.


HIGH TOLERANCE AND EFFICACY
CLINICALLY AND DERMATOLOGICALLY TESTED


Volume: 150 ml
Available:

5

Model:

L9877

Weight:

0.21kg
PHARMACERIS