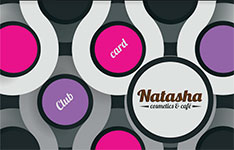 Natasha Club Card is a great way to save money while buying all the beauty products you want!
For every pound you spend at Natasha Cosmetics you get 3 points on your loyalty card, points can then be used to buy products from Natasha Cosmetics!
So make sure to get your loyalty card and start racking up some points!
Terms and Conditions
1.The Natasha card ("the Natasha Club Card") remains the property of Mleczko H&B Ltd who may at any time, terminate the scheme or alter or amend the conditions of operation of the scheme.
2. Members are entitled to one Natasha Club Card each. Mleczko H&B Ltd reserves the right to refuse, merge or close accounts at any time.
3. Members must register their personal details and keep Mleczko H&B Ltd informed of any changes. Members must be over the age of 18 years.
4. The Natasha Club Card is not transferable and cannot be copied.
5. The Natasha Club Card must be produced on purchase to qualify for points and when seeking to redeem points when making a purchase.
6. Mleczko H&B Ltd may decline to issue, withdraw or cancel a Natasha Club Card Account if:
Any abuse or attempted abuse of the scheme.
Breach or attempted breach of the scheme.
Any behaviour that involves, theft, misconduct, abusive or offensive behaviour to a member of staff, or giving false or misleading information.
7. Natasha Club Cards cannot be bought, sold or traded in any way.
8. Members who do not collect points within one year will be removed from the scheme and will need to reapply. Also members who do not use their cards in a year will be removed from the scheme.
9. Members will receive one point for every pound, one point being equal to 1p. Mleczko H&B Ltd reserves the right to either increase or decrease the number of points accrued on qualifying purchases or to change how points are accrued from time to time at our sole discretion. Members will be notified of any changes we make by updating these terms and conditions by posting amendments to the terms and conditions on our website natashacosmetics.co.uk or in-store. Members who continue to participate in the Natasha Club Card Scheme will be deemed to have accepted the amended terms and conditions.
10. Points awarded for a purchase and the total points already accrued, will be shown on the receipt after each purchase.
11. Points can only be redeemed as money off a transaction and cannot be converted into cash.
12. Members might have a limit on the number of points awarded for promotional items.
13. Members will have to redeem loyalty points when they reach 50,000 or a value of £500.
14. There may be a delay in loading points, for instance in the event of system error. Therefore, on rare occasions, points earned might only register after a period of 24 hours.
15. Members are responsible for their Natasha Club Card, as we are not able to credit points which have been spent, whether or not by an authorised person. It is your responsibility to notify us if your card is stolen or lost.
16. Points can be transferred from a lost card to a new card but only in the event that your Natasha Club Card has points in credit at the time of you notifying us of the loss or theft of your card. We advise you that the Natasha Club Card has to be cancelled prior to any points being redeemed on your lost or stolen card.
17. If we refund you your purchases that attract points, we reserve the right to deduct these points from your points balance at any time.
18. The value of points redeemed on your Natasha Club Card used in the payment or part-payment of goods purchased will not entitle you to earn further points under the Natasha Club Card.
19. Mleczko H&B Ltd is a data controller for the purposes of Data Protection Act 1998. By signing these terms and condition or the back of the Natasha Club Card, whichever is the earlier, you consent that we may process personal data that we collect from you in accordance with the terms of the Data Protection Act.
20. Mleczko H&B Ltd may use the information that you supply to us on the enrollment of the program together with any information relating to your transactions and purchases made from Mleczko H&B Ltd and participation in the Loyalty Card Scheme for the purposes of:
Administration of the Scheme
Statistical analysis
Sending news of our events and offers by post, e-mail and by phone
Market research
21. Members may opt out of Natasha Club Card Scheme at any time by contacting one of our stores and you acknowledge that this will result in your membership of the Natasha Club Card Loyalty Scheme ending.